All great things start with the decision to try. It is common for students to be distracted and lack concentration. If you are a student who's constantly looking for motivation, you are not alone! Quite often, students need a push to study and it is totally okay to feel lazy and unmotivated. The point is to look around, get inspired, sideline the laziness, and jump right on track. Today, we have a compilation of 20 motivational quotes for students and we will also be discussing why we need the motivation to study.
Quotes for Students Who Want To Have the Best Year Ever
As a student, it's easy to get bombarded and stressed out over assignments, studying, tests, etc. The secret to having the best year ever begins with having the right mindset. This mindset is rooted in the values of excellence in education and service. Education as a value focuses on learning and growing as a leader. Enjoy these excellent student quotes to help you strengthen your own Everyday Power on your academic path towards success.
Each day, offers the opportunity to gain new insights, expand one's knowledge, and create innovative solutions. Education is an exploratory process of imagining, innovating, and developing ideas. Service provides an opportunity to combine education and action by making an impact in the global community.
20 Awesome Motivational Quotes for Students Success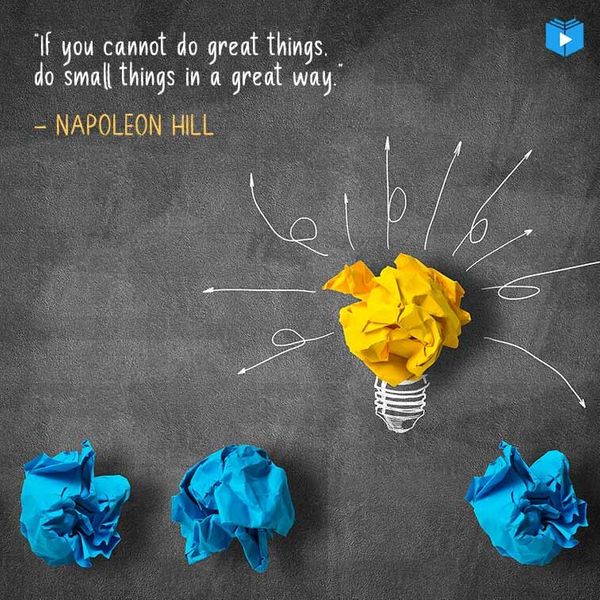 This is not just a motivational quote for students' success but one that everyone needs to apply in life. We often go behind bigger things and forget how little things can make a difference. If getting a good grade in all the subjects is your target, start with getting an A in one paper or one unit test. Ace one lesson and then go for the whole subject. If you don't have the supplies to make your project look fancy, put in your efforts, do your research, and give it all you got in order to make it a great project from your end. The idea is not to be better than others but to be better than who you were yesterday.
This is one of the most important motivational quotes to study hard. Quite often, one failure brings down the spirits of students. A single exam or failure does not define who you are. The moment you give up on yourself and stop working hard because you faced a defeat, that's when you are truly defeated. Your failure begins when you refuse to get up. Always remember that there's nothing that you cannot achieve if you work for it.
If you are looking for motivational quotes for students' success, this one is especially for you. You don't have to hurry. Take things slowly, at your own pace. You don't have to be in a race and become someone else. All you have to do is never stop trusting yourself and never stop growing and evolving.
Sir Abdul Kalam's life in itself is a motivation for students and everyone. This is a very powerful motivational quote for students' success. A small lifestyle and habit change can make a huge difference in your life. It might be how many hours you study, when you wake up or when you go to sleep, the books you read, it can be anything. But make sure you are doing something that would be beneficial to you in the future.
This is a very apt motivational quote for students because students often end up giving up on themselves and their dreams due to self-doubt and apprehension. You don't have to doubt yourself, you just have to keep getting better at what you do.
This motivational quote from Eliot pushes everyone to go the mile to achieve great things. If you are afraid to go beyond the limit, you will always be in a box. Take risks and show the world what you are capable of.
8." When you are doing any work, do not think of anything beyond. Do it as worship. As the highest worship and devote your whole life to it for the time being." – Swami Vivekananda
This quote underlines the importance of commitment and devotion to the work that you do. Be it a simple assignment or a class test, give it your best. Don't let your mind be distracted and you are the only one who can stop yourself from being distracted.
When you fail an exam, that's not the end of life. It just means that you have to put in a little more effort than the last time. It is just a passing moment and does not define you. Study harder and make a comeback. We have discussed in detail about intrinsic motivation and extrinsic motivation in one of our previous blogs, read it here.
If you are apprehensive about doing something or not appearing for an exam in the fear that you will score fewer marks, you are just ensuring your failure. Never be afraid to take a new step. As discussed in the beginning, everything starts with the decision to try.
You can't expect yourself to be the best on the very first day. You have to work for it and gain it through passion and commitment. If you are bad at Maths, do more sums and problems until you master it. Do your best and do not worry about the results.
Your education is an asset that no one can take away from you. It is not money that you should aim for, it is quality education. That is what will take you to places; the willingness to learn and the need to grow.
Always have a vision of what you want to achieve and what you want to become. When you lack motivation, think about that vision and you will win in life. These quotes for students' motivation help you stay focused. It also makes one understand that no matter how many motivational thoughts for students you read, ultimately, you have to put in the effort to succeed.
The quote is self-explanatory. Everyone needs to apply this in life. No matter how defeated you think you are, you must always keep working on yourself and move forward. This is one of the most important motivational quotes for students and everyone else.
It is as simple as that. If you can dream about passing that exam, you can definitely do it. If you are dreaming to get into that college, you can. No one is saying that it might be easy, but it is definitely possible.
Conclusion
Quite often we look around for motivation but the best kind of motivation starts within you. You are the only person capable of bettering yourself and achieving goals. We hope the above-mentioned motivational quotes for students give you the necessary nudge. These motivational quotes for student success will help you get a new perspective.
If you are trying to start online teaching and are searching for a good online teaching app, Teachmint is the best App. With this one-stop solution, you can manage live classes, there's real-time student-teacher interaction, automatic attendance marking, and more. Download the app now.
Sources:
https://everydaypower.com/quotes-for-students/
https://blog.teachmint.com/motivational-quotes-for-students/
https://kidadl.com/quotes/best-academics-quotes-to-inspire-and-motivate-students